Corporate Governance in the DIA Group
Start of main content
Company structure and shareholder structure
(As of 31 December, 2017) (102-4; 102-5)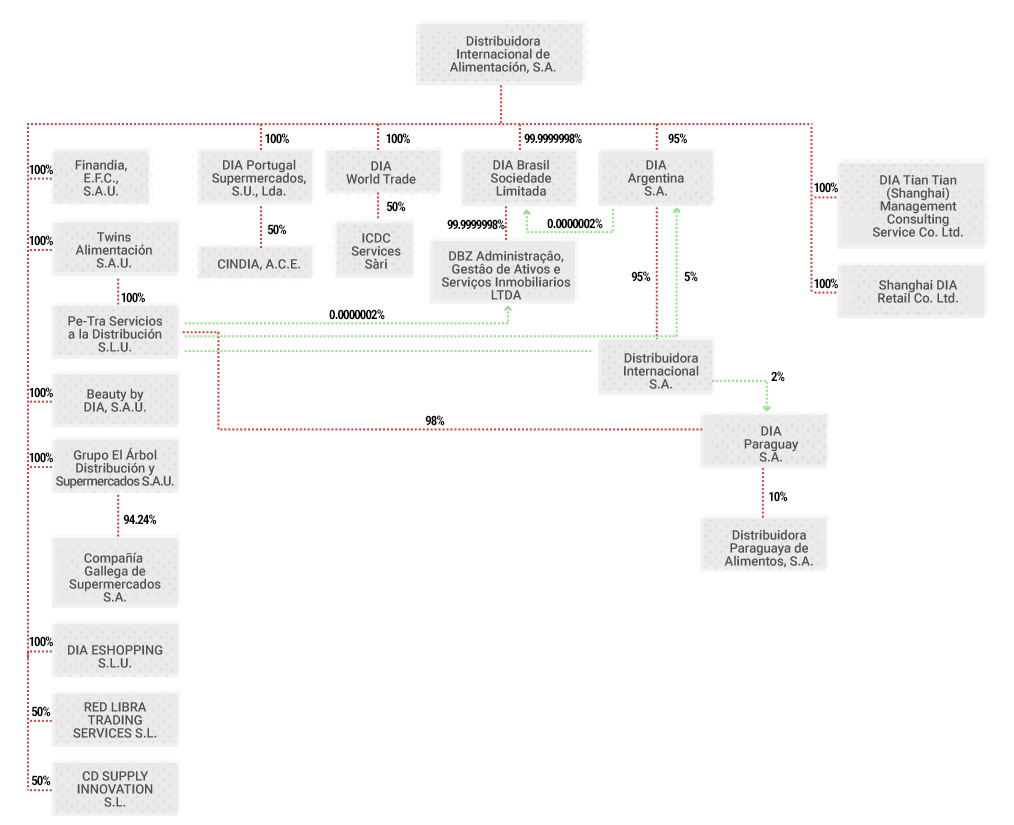 Distribuidora Internacional de Alimentación, S.A. (102-1), headquartered in Madrid (102-3), owns, directly or indirectly, 100% of all its subsidiaries, except for Compañía Gallega de Supermercados, S.A. of which it owns 94.24%, ICDC Services Sarl, CINDIA, A.C.E., Red Libra Trading Services, S.L. and CD Supply Innovation, S.L. of which it owns 50% and Distribuidora Paraguaya de Alimentos, S.A. of which it owns 10%.
The DIA Group's main activity is the retail and wholesale sale of food products and other consumer products, through owned or franchised stores. DIA World Trade, S.A. is located in Geneva, Switzerland, and provides services to the suppliers of the DIA Group companies.
Finandia E.F.C., S.A.U. is a Spanish credit company that offers financing to customers of the DIA stores in Spain with the "ClubDIA" card. Distribuidora Internacional, S.A., located in Buenos Aires, Argentina, is specialised in services consultancy.
The group of companies CINDIA, A.C.E and the ICDC company have been set up together with Intermarché and Casino, respectively, to jointly purchase goods in Portugal and Switzerland (Geneva).
DIA E-Shopping creates, maintains and operates websites and internet portals for the sale of products and services.
The company DBZ Administraçao, Gestao de ativos e Serviços Imobiliarios Ltda., domiciled in Sao Paulo, is involved in managing the real estate belonging to DIA Brasil.
The company Red Libra Trading Services, S.L. has been created jointly with Eroski Group for the negotiation with suppliers of own brands for both companies, as well as the acquisition of other materials necessary for its activity.
The company CD Supply Innovation, S.L. has been jointly established with Casino Group for the management of financial, logistic and innovation services.
The following chart outlines the companies that make up the DIA Group:
DIA Group Shareholder Structure
* February 2018
Company structure and shareholder structure
End of main content