Suppliers and Supply Chain
Start of main content
DIA has a worldwide network of over 4,500 suppliers who are key in terms of providing customers with the DIA Group's proposition of offering the best quality at the best price.
(102-9)
The company's international profile, its omni-channel concept, and its ongoing development in very different types of markets, offers these suppliers (who are mainly local) new business opportunities and better knowledge of consumer behaviour.
The DIA Group's supply chain is run using an efficient and innovative logistics system, linking its 37 warehouses with a wide and dispersed store network in the four countries in which the company operates. These warehouses use pioneering systems such as radio frequency voice picking to prepare orders, which boosts efficiency and eliminates the use of paper.
All the systems and software used in its logistics network are designed and developed in-house, thus allowing it to react fast to the changing needs of its different markets and to make quick adjustments, allowing it to operate very efficiently within its proximity model.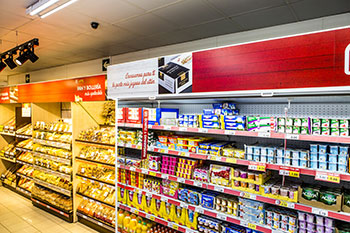 Transportation companies operates under an autonomous structure, deliver merchandise using multi-temperature trucks, which simultaneously transport fresh produce, frozen products, dry products, and 0+ temperature products, thus speeding up deliveries, reducing transport costs and simplifying the delivery process for stores, as they only receive a single truck with all the merchandise.
The products are packaged ready for selling, with no need for additional handling, which saves time when stacking shelves, and are also more aesthetic for customers. In addition, barcodes are placed on several parts of the product packaging to streamline scanner detection at the store checkouts.
The group's internal reorganisation by banner in Spain has also involved the warehouses, which since 2017 have delivered to stores according to format and not location, as was the case in the past.
As for operations, in 2017 a new application was launched to locate and track trucks, allowing for real-time monitoring of merchandise from the shop. This application started to be implemented in Argentina in 2016, and in 2017 it was developed in Spain and Portugal.
Nº of warehouses by country

| | Nº of warehouses | Floor area |
| --- | --- | --- |
| Argentina | 5 | 110,994 |
| Brazil | 7 | 154,398 |
| Spain | 22 | 431,771 |
| Portugal | 3 | 76,350 |
| Total | 37 | 773,513 |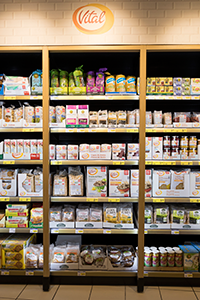 Own labels: innovation and quality at the best prices
The DIA Group has a broad portfolio of own-label brands, with over 7,000 SKUs in total. This constitutes a big differentiating factor in DIA's commercial offer, and its success is due to the excellent value for money that these own-label products represent, supported by a cost-efficiency policy and exhaustive checks on manufacturing and distribution processes.
DIA's own-label brands are present in all the countries in which the group operates, and they always account for a high percentage of total sales. Accordingly, in Spain, own-label sales accounted for 48% of total sales in 2017, and this figure was 54% in Portugal. In emerging markets, where there is less of a tradition of own-label products, the percentage of total sales was very significant: 37% in Argentina and 34% in Brazil.
During 2017, the company continued to expand its assortment, in line with its strategy to adapt to customers' changing needs through innovation, with 200 new SKUs launched in the market. Thanks to this strategy, a new own-label brand was added to the portfolio: Vital, which encompasses products focused on a balanced, healthy diet.
End of main content