Business performance and results in 2017
Start of main content
Sales Performance
In 2017, gross sales under banner grew by 0.2% in Euros to EUR10.33bn. In local currency, the growth rate was 1.5%, which reflects a 1.3% negative currency effect.
In Q4 2017, gross sales under banner decreased by 3.4% to EUR2.6bn, with a 5.2% negative currency effect (a 1.8% increase ex-currency).Ex-calendar comparable sales growth amounted to 3.4% in 2017, with a 3.9% rise in Q4 2017.
In Q4 2017 and FY 2017, all the DIA countries achieved positive comparable LFL growth rates.
Iberia

2017 gross sales under banner declined by 3.3% to EUR6.59bn, with comparable sales of 0.3% and a 3.0% negative contribution from space (both permanent and temporary closings related to remodelling). The negative sales performance was due to Spain, where gross sales under banner fell by 3.8% in 2017, in line with the reduction of store selling area. In Portugal, gross sales under banner grew by 0.6% to EUR853m.
In Q4 2017, gross sales amounted to EUR1.66bn, down by 2.9%. This decline was also due to space reduction, as "ex-calendar" LFL rose by 1.1% in the standalone quarter.
During 2017, DIA continued to make progress in its network, with the upgrade of 613 stores, doubling the 2016 figure of 307. This store upgrade plan, apart from enhancing the customer experience, reinforces DIA's product offering with new categories.
Clarel's gross sales under banner in Iberia rose by 2.6% to EUR358m in 2017, with a weak year-end in Catalonia, where the format operates more than 650 stores.
Gross sales under banner at La Plaza stores amounted to EUR813m in 2017, down by 6.2%, which compares with an 11.6% decline in the store selling area.
Emerging Markets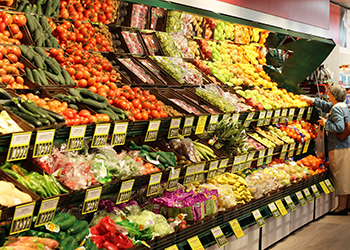 In 2017, gross sales under banner grew by 7.0% in Euros to EUR3.74bn and by 10.8% ex-currency, reflecting a 3.8% negative effect from FX.
Q4 2017 gross sales in Euros decreased by 4.2% to EUR0.94bn, which reflects a 14.2% negative impact from the depreciation of the Argentinean Peso and Brazilian Real seen in the quarter.
In 2017, comparable sales amounted to 8.6% (excluding a -0.2% calendar effect), while in the last quarter it amounted to 8.3%.
Comparable sales growth in emerging markets slowed down in 2017 versus 2016 due to the significant decline in inflation seen in both Argentina and Brazil throughout the year. Food inflation continued to decline during the last quarter of 2017, both in Argentina and Brazil. In Brazil, average food deflation in Q4 2017 amounted to -5.1%. Despite this negative contributing factor, comparable sales improved notably in Brazil during the period, reaching mid-single-digit growth rates in the standalone quarter.
Comparable sales 2017
1T 2017
2T 2017
3T 2017
4T 2017
2017
Comparable Sales
Iberia
0.7%
-0.5%
-1.3%
-0.1%
-0.3%
Emerging
10.0%
10.4%
6.5%
7.3%
8.4%
TOTAL DIA
3.9%
3.4%
1.6%
2.8%
2.9%
Calendar Effect
Iberia
-0.1%
-1.7%
0.2%
-1.2%
0.6%
Emerging
-0.1%
-0.3%
0.4%
-1.0%
-0.2%
TOTAL DIA
-0.1%
-1.2%
0.3%
-1.1%
-0.5%
Comparable Sales (ex-calendar)
Iberia
0.8%
1.2%
-1.5%
1.1%
0.3%
Emerging
10.1%
10.7%
6.1%
8.3%
8.6%
TOTAL DIA
4.1%
4.6%
1.3%
3.9%
3.4%
Gross sales under banner (€m)

| | 2016 | % | 2017 | % | Cambio | Efecto divisa | Cambio (ex-FX) |
| --- | --- | --- | --- | --- | --- | --- | --- |
| Spain | 5,966.6 | 57.9% | 5,736.9 | 55.5% | -3,8%. | 0.0% | -3.8% |
| Portugal | 848.0 | 8.2% | 852.8 | 8.3% | 0.6% | 0.0% | 0.6% |
| IBERIA | 6,814.6 | 66.1% | 6,589.7 | 63.8% | -3.3% | 0.0% | -3.3% |
| Argentina | 1,642.6 | 15.9% | 1,747.6 | 16.9% | 6.4% | -15.1% | 21.5% |
| Brazil | 1,856.5 | 18.0% | 1,997.1 | 19.3% | 7.6% | 6.2% | 1.4% |
| EMERGING | 3,499.1 | 33.9% | 3,744.7 | 36.2% | 7.0% | -3.8% | 10.8% |
| TOTAL DIA | 10,313.6 | 100.0% | 10,334.4 | 100.0% | 0.2% | -1.3% | 1.5% |
End of main content