Start of main content
Comitted to customer focus
During 2017, the Client Attitude project (set up a year ago) was developed further, and is now one of the company's key training pillars. This transversal programme aims to improve consumers' shopping experience, promoting the direct involvement of employees at all levels through training programmes, interdepartmental meetings, and several specific initiatives.
More than23.067 hours of training to more than 3.000 employees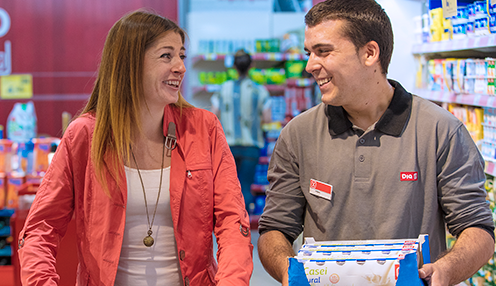 A new feature of this project is that it was expanded in 2017 to Portugal, developing a programme based on a cultural change in the management of people, leadership, selection, and digitalisation. In Spain, the programme includes a new initiative aimed at getting closer to the customer, which involves all the headquarter employees at all levels, whereby they visit stores and conduct personalised surveys, participating in day-to-day store operations.
Since the start of the project, more than 23,067 hours of training have been given in the context of this programme, involving more than 3,000 employees from the headquarters, warehouses, and stores across Spain.
End of main content