Start of main content
Equal opportunities in the workplace
The DIA Group is committed to ensuring equal opportunities in the workplace. Women accounted for 64.4% of the total workforce, and 36.5% of people in management positions at Group level, reaching 43.8% in countries like Spain. On the Board of Directors, the proportion remains around 30%, while at Director level this ratio is 26.4%, slightly below last year's figure (29.2%).
At the end of 2017, the workforce split, by gender, hierarchical level, and country, was as follows:
(405-1)
Percentage of individuals per professional category and gender
Percentage of individuals per professional category and group of age
Percentage of individuals per region and gender
The DIA Group openly publishes its processes of selection, promotion and occupational training, and guarantees salary equality in jobs of equal value. There were no cases of discrimination in this area in 2017 (406-1).
The company has an Equality Programme, which was approved in 2012 in Spain, which aims to delve even further into the equality of professional opportunities at all levels of the workforce. During 2017, at manager and director level, women employees accounted for 34.23% of promotions to professional groups different to their original group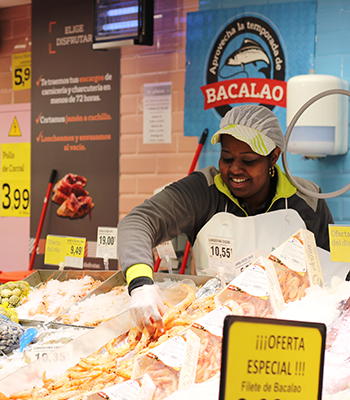 On 8, 9, and 10 of March 2017, to celebrate International Women's Day, the DIA Group launched an information and awareness campaign based on two main pillars: talent and digitalisation. This initiative involved the company sending infographics to its entire workforce in Spain, with data and statistics about equality and digitalisation, as well as an article about women and digital transformation. The company also circulated among its employees the United Nations objectives for Gender Equality, and it convened the "Mujeres que dejaron huella" ("Women who left a mark") competition, whereby DIA employees submitted their selfies with contributions such as inventions created by women or literary works written by women throughout history.
Since 2016, the company has also participated in the Universo Mujer (Women's Universe) programme in Spain, an initiative focused on the development of women and their personal progress within society. This was set up to develop initiatives that can contribute to improvement and social transformation through the values of female sports. DIA, which is also involved in other initiatives to promote gender equality and female leadership, is concentrating its efforts into this programme to promote women, and, in partnership with the FEB (Spanish Basketball Federation), will develop a series of projects that will contribute to the objectives defined, and in which customers and employees will participate.
Equal opportunities in the workplace
End of main content