Health and safety in the workplace
Start of main content
Health and safety in the workplace
DIA is aware that preventing work-related risks among its employees is the leading indicator in terms of measuring its quality as an employer. Across the entire group, the number of hours lost due to work-related accidents is 0.53%, which is a low percentage given the nature of the work in stores and warehouses.
Types of injury and rates of injury

(403-2)

Argentina
Brazil
Spain
Portugal
Men
Women
Men
Women
Men
Women
Men
Women
Working hours per year
6,751,250
3,556,858
6,894,299
8,954,211
13,344,522
29,079,587
2,500,788
4,577,381
Work-related accidents
65
26
50
77
751
1.069
169
307
Injury rate
0.184
0.001
0.116
0.133
0.827
0.463
1.04
1.00
Lost day rate (%)
0.23
0.22
0.22
0.27
0.77
0.64
0.718
0.635
Absentee rate (%)
2.02
3.24
5.77
10.70
4.25
7.79
2.99
3.36
Number of fatalities
0
0
0
0
0
0
0
0
In each of the countries in which the group operates, training is provided in new stores and in relation to new processes, such that the company can guarantee that all of its employees have been trained in occupational health and safety, including employees who are already with the company and who are updating their knowledge, and new employees who are just joining.
Number of hours of occupational risk prevention training per employee
Total investment in occupational risk prevention training (EUR)
In 2017 in Brazil, the company launched a training programme for store managers on the prevention of occupational risks, with the aim of involving all teams and foster an understanding of the importance of working safely. Warehouse operators also took part in this programme; intotal, more than 2,600 employees participated, with over 14,900 hours of training given.
In Portugal, the company also gave courses to store and warehouse employees related to health and safety in the workplace, with 1,100 employees taking part. The courses, which included over 3,400 hours of training, covered areas such as load ergonomics, fire safety, ergonomics, first aid, and prevention of occupational risks.
In order to help improve the healthy lifestyle habits of its employees, for the seventh year in a row, the DIA group organised a Healthy Week ("Semana Saludable"), both at its headquarters in Las Rozas de Madrid and at its regional centres, involving its store, warehouse, and office staff. Accordingly, employees could enjoy activities based on physical exercise, healthy eating, hydration, and emotional wellbeing.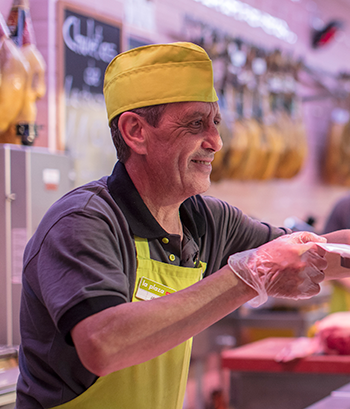 In the context of health surveillance, the company has developed other campaigns that have been used in previous years in all the countries in which it operates, such as the Flu Vaccination Campaign, initiated and promoted by the public health services, and which DIA also got involved in, to provide vaccinations to any people interested.
Along the same strategic lines, health surveillance is integrated into the company's global Prevention Plan: through the Health Assessment and Monitoring programme, employees' state of health can be evaluated in relation to the risks they are exposed to in their workplace, allowing them to adopt any preventative measures by adapting the workplace if necessary, and monitoring their health over time in order to detect any signs of possible and potential injuries early, thus avoiding them turning into professional illnesses.
Accordingly, DIA has integrated procedures into its Global Prevention Plan to detect the repercussions of working conditions on employees' health, identifying employees who are particularly exposed to such risks in order to adapt their workplaces to the needs of each person.
End of main content